"My Life My Songs" hosted by Jimmy Fortune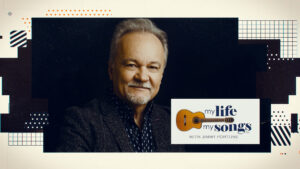 NASHVILLE, Tenn. – Country music hitmakers T.G. Sheppard, Kelly Lang, David Frizzell, Rhonda Vincent, T. Graham Brown, and more can be seen on the new television show My Life My Songs, hosted by Jimmy Fortune. The show features interviews with these hit songwriters and recording artists, discussing everything from their careers to the writing of their #1 hit songs. Viewers are able to get the inside scoop on their favorite tunes we all know and love starting the first episode off strong on Monday, March 28 with country music legend T.G. Sheppard as Fortune's first guest! My Life My Songs with Jimmy Fortune airs on country music TV's top channels including The Heartland Network, The Family Channel, The Country Network, and more.
For more information and to view the full schedule, visit mylifemysongs.com.
T.G. Sheppard
MAR 28 – Heartland TV / 4:00 PM CDT
MAR 30 – Stryk TV / 7:00 PM CDT / 11:00 PM CDT
APR 01 – The Family Channel / 3:30 PM CDT
APR 01 – Stryk TV / 11:00 PM CDT
APR 03 – RightNow TV / 1:00 AM CDT
APR 03 – The Country Network / 11:00 AM CDT / 9:00 PM CDT
APR 03 – Stryk TV / 5:00 PM CDT
APR 03 – Heartland TV / 6:30 PM CDT
Kelly Lang
APR 18 – Heartland TV / 4:00 PM CDT
APR 18 – RightNow TV / 8:00PM CDT
APR 20 – Stryk TV / 7:00 PM CDT / 11:00 PM CDT
APR 22 – The Family Channel / 3:30 PM CDT
APR 22 – RightNow TV / 8:00 PM CDT
APR 22 – Stryk TV / 8:30 PM CDT
APR 23 – RightNow TV / 1:00 AM CDT
APR 24 – RightNow TV / 1:00 AM CDT
APR 24 – The Country Network / 11:00 AM CDT / 9:00 PM CDT
APR 24 – Stryk TV / 5:00 PM CST
APR 24 – Heartland TV / 6:30 PM CDT
David Frizzell
APR 25 – Heartland TV / 4:00 PM CDT
APR 25 – RightNow TV / 8:00 PM CDT
APR 27 – Stryk TV / 7:00 PM CDT / 11:00 PM CDT
APR 29 – The Family Channel / 3:30 PM CDT
APR 29 – RightNow TV / 8:00 PM CDT
APR 29 – Stryk TV / 8:30 PM CDT
APR 30 – RightNow TV / 1:00 AM CDT
MAY 01 – RightNow TV / 1:00 AM CDT
MAY 01 – The Country Network / 11:00 PM CDT / 9:00 PM CDT
MAY 01 – Stryk TV / 5:00 PM CDT
MAY 01 – Heartland TV / 6:30 PM CDT
Rhonda Vincent
JUN 13 – Heartland TV / 4:00 PM CDT
JUN 13 – Rightnow TV / 8:00 PM CDT
JUN 15 – Stryk TV / 7:00 PM CDT / 11:00 PM CDT
JUN 17 – The Family Channel / 3:30 PM CDT
JUN 17 – RightNow TV / 8:00 PM CDT
JUN 17 – Stryk TV / 8:30 PM CDT
JUN 18 – RightNow TV/ 1:00 AM CDT
JUN 19 – RightNow TV / 1:00 AM CDT
JUN 19 – The Country Network / 11:00 AM CDT / 9:00 PM CDT
JUN 19 – Stryk TV / 5:00 PM CDT
JUN 19 – Heartland TV / 6:30 PM CDT
T. Graham Brown
JUN 20 – Heartland TV / 4:00 PM CDT
JUN 20 – RightNow TV / 8:00 PM CDT
JUN 22 – Stryk TV / 7:00 PM CDT / 11:00 PM CDT
JUN 24 – The Family Channel / 3:30 PM CDT
JUN 24 – RightNow TV / 8:00 PM CDT
JUN 24 – Stryk TV / 8:30 PM CDT
JUN 25 – RightNow TV / 1:00 AM CDT
JUN 26 – RightNow TV / 1:00 AM CDT
JUN 26 – The Country Network / 11: 00 AM CDT / 9:00 PM CDT
JUN 26 – Stryk TV / 5:00 PM CDT
JUN 26 – Heartland TV / 6:30 PM CDT