Jimmy Fortune and Earl Hamner, Jr statues unveiled in Nelson County, VA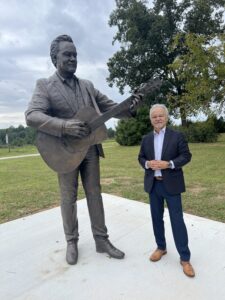 Statues of Two Famous Nelsonians presented to the Oakland Museum
Life-size bronze statues of Earl Hamner Jr., creator of "The Waltons," and Jimmy Fortune, formerly of the Statler Brothers, were unveiled at a ceremony at the Nelson County Historical Society's Oakland Museum on Saturday, July 8, at 11 a.m.
Kami Cotler, who played the youngest Walton, Elizabeth, and Michael McGreevey, an actor and writer on the show and a co-producer of a documentary on Hamner, spoke at the event.
Cotler, a prominent cast member of "The Homecoming" and "The Waltons" beginning at age 6, and who lived in Nelson and taught in the school system, arranged for other cast members to produce a video expressing their memories of Hamner. It was shown at the unveiling. Hamner died in 2016 and July 10 marked his 100th birthday.
Fortune and members of his family were present for the unveiling. Fortune spoke about his relationship with Hamner.
The museum also premiered exhibits on Hamner and "Rhythms Past and Present," honoring Fortune and other prominent local musicians with photos, biographies and videos of interviews and performances. The musical heritage exhibit is partially funded by a grant from Bama Works, a charitable foundation of the Dave Matthews Band.
Lyndon Cook, a retired college professor and longtime fan of Fortune's, commissioned the statues by Stan Watts, a noted artist and sculptor. One of Watts' most famous pieces is entitled, "To Lift a Nation," and is taken from the famous photo of New York City firefighters raising a flag over the collapsed World Trade Center site. Funding for the statue of Hamner was donated by the Chris and Andrea Lee family, and Steve and Annie Zolman donated the statue of Fortune.
When Cook approached Fortune to propose the statue, Fortune said he would allow it if Cook would also commission a statue of Hamner, with whom he became close after being asked to appear in and sing in a video documentary on Hamner's life called "Storyteller." Behind the scenes footage of Fortune singing "Virginia Dreams" and "How Great Thou Art" at the old Hamner home and Schuyler Baptist Church will be shown in the museum exhibit, as will a video of Michael Learned and Hamner talking about "The Waltons."
To see the statues in person go to the Nelson County's Historical Society's Oakland Museum at 5365 Thomas Nelson Hwy Arrington, VA 22922. For more information click
here
.